Note: This page is missing many details like images and descriptions. Update should come about soon, sorry for the inconvenience.
Introduction of HK MP5
The Heckler & Koch MP5 (from German: Maschinenpistole 5, meaning Submachine gun 5) is a 9mm submachine gun of German design, developed in the 1960s by a team of engineers from the German small arms manufacturer Heckler & Koch GmbH (H&K) of Oberndorf am Neckar. There are over 100 variants of the MP5, including some semi-automatic versions.
The MP5 is one of the most widely used submachine guns in the world, having been adopted by 40 nations and numerous military, law enforcement, intelligence, and security organizations. It is widely used by SWAT teams in North America.
In 1999, Heckler & Koch developed the Heckler & Koch UMP, the MP5's successor; both are available as of 2017.
Specifications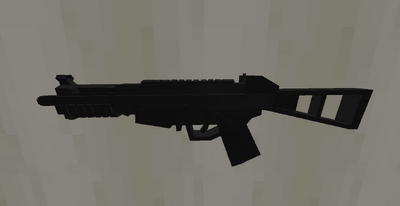 Damage per shot: 6.8
Damage per second: 68
Caliber: .45 ACP
Fire Rate: 600 rpm
Fire Mode: Semi - Auto
Weight: 2.5 kg
Length: 690 mm
Muzzle Velocity: 285 m/s (935 ft/s)
Effective Range: 65 meters
Reload Speed: 2.4 secs
Attachments for Barrel
Attachments for Optics
Trijicon ACOG
EOTech 512 A65
EOTech EXPS3-0 (Tan)
8-18 Kobra Sight
Barska AR6 1-6x24
AImpoint Micro T-1 Sight
15 MOA Reflex
Elcan Specter SFOV4-A1
Attachments for Under Barrel
Grip
Stubby Grip
Foregrip
Attachments for Sides
UTG Tactical Laser
LD19206-IR Tactical Laser
Crafting
Gallery