Note: This page is missing many details like images and descriptions. Update should come about soon, sorry for the inconvenience.
Introduction to SPAS-12
The Franchi SPAS-12 is a combat shotgun manufactured by Italian firearms company Franchi from 1979 to 2000. The SPAS-12 is a dual-mode shotgun, adjustable for semi-automatic or pump-action operation. The SPAS-12 was sold to military and police users worldwide on the civilian market and has been featured in many movies, TV shows, and video games.
The appearance and intended purpose of the SPAS-12 initially led to its "military" designation as a combat shotgun. The SPAS-12 was designed from the ground up as a rugged military shotgun, and it was named the Special Purpose Automatic Shotgun. In 1990 Franchi renamed the shotgun to the Sporting Purpose Automatic Shotgun, which allowed continued sales to the United States as a limited-magazine-capacity, fixed-stock model until 1994. Following the United States Federal Assault Weapons Ban, imports of SPAS-12 shotguns were stopped into the United States. In September 2004 the ban expired, but Franchi had ended production of the SPAS-12 in 2000 to focus on the manufacturing of the SPAS-15 model. The SPAS-12's factory retail price in its final year was $1500.00 USD averaged for its final sales outside the United States to non-restricted countries.
Specifications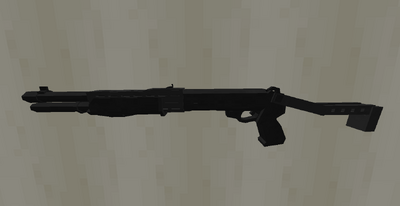 Damage per pellet: 7
Number of pellets: 10
Damage per shot: 70
Damage per second: Variable
Caliber: 12 Gauge 00 Buck
Fire Rate: Variable
Fire Mode: Semi - Pump
Weight: 3.1 kg
Length: 660 mm
Muzzle Velocity: 408 m/s (1338 ft/s)
Effective Range: 47.5 meters (52 yards)
Reload Speed: Depends*
Attachments for Barrel
Attachments for Optics
THIS WEAPON CANNOT HOLD ANY OPTICAL ATTACHMENTS!
Attachments for Under Barrel
THIS WEAPON CANNOT HOLD ANY UNDER BARREL ATTACHMENTS!
Crafting
Gallery