Note: This page is missing many details like images and descriptions. Update should come about soon, sorry for the inconvenience.
Introduction to Saiga 12
The Saiga-12 (/ˈsaɪɡəˈtwɛlv/) is a 12-gauge shotgun available in a wide range of configurations, patterned after the Kalashnikovseries of rifles and named for the Saiga antelope. Like the Kalashnikov rifle variants, it is a rotating bolt, gas-operated gun that feeds from a box magazine. All Saiga-12 configurations are recognizable as Kalashnikov-pattern guns by the large lever-safety on the right side of the receiver, the optic mounting rail on the left side of the receiver and the large top-mounted dust cover held in place by the rear of the recoil spring assembly.
The Saiga-12 is manufactured by the arms division of Izhmash, in Russia. It was previously imported into the US by European American Armories, although their agreement expired in 2005 and Izhmash then began exporting through the Russian-American Armory Company. The current export import partner is Wolf Performance Arms. Izhmash also manufactures Saiga 20s and Saiga 410s in 20-gauge and .410 bore, as well as the Saiga semi-automatic hunting rifles in a number of centerfire calibers.
Specifications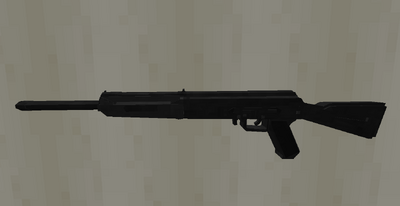 Damage per pellet: 6.3
Number of pellets: 11
Damage per shot: 69.3
Damage per second: Variable
Caliber: 12 Gauge 00 Buck
Fire Rate: Variable
Fire Mode: Semi
Weight: 3.6 kg
Length: 1145 mm
Muzzle Velocity: 408 m/s (1338 ft/s)
Effective Range: 47.5 meters (52 yards)
Reload Speed: 2.3 secs
Attachments for Barrel
Attachments for Optics
Attachments for Under Barrel
THIS WEAPON CANNOT HOLD ANY UNDER BARREL ATTACHMENTS!
Crafting
Gallery