Note: This page is missing many details like images and descriptions. Update should come about soon, sorry for the inconvenience.
Introduction of PPSH-41
The PPSh-41 (pistolet-pulemyot Shpagina; Russian: Пистолет-пулемёт Шпагина; "Shpagin machine pistol"); is a Sovietsubmachine gun designed by Georgy Shpagin as a cheap, reliable, and simplified alternative to the PPD-40. Common nicknames are "pe-pe-sha" (Russian: ППШ) from its three-letter prefix and "papasha" (Russian: папаша), meaning "daddy".
The PPSh is a magazine-fed selective fire submachine gun using an open bolt, blowback action. Made largely of stamped steel, it can be loaded with either a box or drum magazine and fires the 7.62×25mm Tokarev pistol round.
The PPSh saw extensive combat use during World War II and the Korean War. It was one of the major infantry weapons of the Soviet Armed Forces during World War II. Around six million PPSh-41s were manufactured. In the form of the Chinese Type 50 (a licensed copy), it was still being used by the Viet Cong as late as 1970. According to the 2002 edition of the Encyclopedia of Weapons of World War II the PPSh was still in use with irregular militaries.
Specifications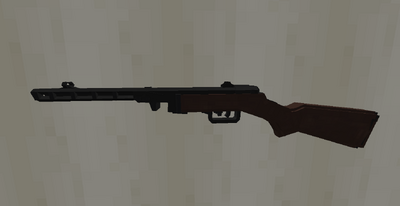 Damage per shot: 7.1
Damage per second: 118.3
Caliber: 7.62x25 mm Tokarev
Fire Rate: 900 - 1000 rpm
Fire Mode: Auto
Weight: 3.63 kg
Length: 843 mm
Muzzle Velocity: 488 m/s (1,600.6 ft/s)
Effective Range: 125 - 150 m
Reload Speed: 2.4 secs
Attachments for Barrel
THIS WEAPON CANNOT HOLD ANY BARREL ATTACHMENTS!
Attachments for Optics
THIS WEAPON CANNOT HOLD ANY OPTICAL ATTACHMENTS!
Attachments for Under Barrel
THIS WEAPON CANNOT HOLD ANY UNDER BARREL ATTACHMENTS!
Crafting
Gallery