Note: This page is missing many details like images and descriptions. Update should come about soon, sorry for the inconvenience.
Introduction to POF .308
Engineered and designed with the same innovation and durability as the P415 series, the P308 Edge is truly the ultimate fighting machine. This year, the P308 brings to market our new Edge series handguards, reducing the width by nearly 20%, giving you the most comfortable P308 yet.
Like the P415, the P308 Edge features all of our Gen 4 upgrades such as E2 Extraction Technology, ambidextrous fire controls, modular free floating rail platform, anti-tilt buffer tube, our M-LOK compatible M Rail, and more.The P308 Edge is your best option for certainty in an uncertain world.
Specifications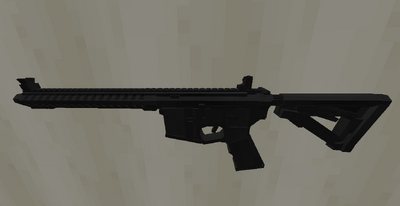 Damage per shot: 8
Damage per second: 50
Caliber: 7.62x51 mm NATO
Fire Rate: 375 rpm
Fire Mode: Semi - Auto
Weight: 3.67 kg
Length: 889 mm
Muzzle Velocity: UNKNOWN
Effective Range: UNKNOWN (ASSUME COMMON BATTLE RIFLE EFFECTIVE RANGE)
Reload Speed: 2.1 sec 
Attachments for Barrel
Attachments for Optics
Attachments for Under Barrel
Crafting
Gallery