Note: This page is missing many details like images and descriptions. Update should come about soon, sorry for the inconvenience.
Introduction to Mosin-Nagant M91/30
The 3-line rifle M1891 (Russian: трёхлинейная винтовка образца 1891 года), colloquially known as Mosin–Nagant(Russian: Винтовка Мосина, ISO 9: Vintovka Mosina) is a five-shot, bolt-action, internal magazine–fed, military rifle developed by the Imperial Russian Army from 1882 to 1891, and used by the armed forces of the Russian Empire, the Soviet Union and various other nations. It is one of the most mass-produced military bolt-action rifles in history with over 37 million units having been made since its inception in 1891, and, in spite of its age, it has been used in various conflicts around the world even up to the modern day.
Specifications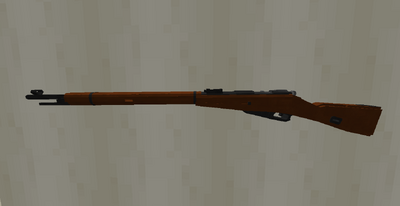 Damage per shot: 20
Damage per second: Variable
Caliber: 7.62x54 mmR
Fire Rate: Variable
Fire Mode: Bolt Action
Weight: 4 kg
Length: 1232 mm
Muzzle Velocity:  865 m/s (2,838 ft/s)
Effective Range: 500 meters (550 yards) or 800+ meters (875+ yards with optics)
Reload Speed: Depends*
Attachments for Barrel
THIS WEAPON CANNOT HOLD ANY BARREL ATTACHMENTS!
Attachments for Optics
THIS WEAPON CANNOT HOLD ANY OPTICAL ATTACHMENTS!
Attachments for Under Barrel
THIS WEAPON CANNOT HOLD ANY UNDER BARREL ATTACHMENTS!
Crafting
Gallery