Note: This page is missing many details like images and descriptions. Update should come about soon, sorry for the inconvenience.
Introduction of M9 Beretta
The Beretta M9, officially the Pistol, Semiautomatic, 9mm, M9, is the designation for the Beretta 92 semi-automatic pistol by the United States Armed Forces as their service pistol. The M9 was adopted by the United States military in 1985.
The M9 won a competition in the 1980s to replace the M1911A1 as the primary sidearm of the U.S. military, beating many other contenders, and only narrowly defeating the SIG P226 for cost reasons. It officially entered service in 1990. Some other models have been adopted to a lesser extent, namely the M11 pistol, and other models remain in use in certain niches.
The M9 was scheduled to be replaced under a United States Army program, the Future Handgun System (FHS), which was merged with the SOF Combat Pistol program to create the Joint Combat Pistol (JCP). The JCP was renamed Combat Pistol(CP), and the number of pistols to be bought was drastically cut back. The U.S. Army and Air Force are seeking to replace their M9s through the Modular Handgun System program.
Specifications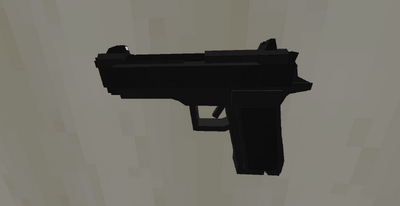 Damage per shot: 5
Damage per second: Variable
Caliber: 9x19 mm Parabellum
Fire Rate: Variable
Fire Mode: Semi
Weight: 217 g
Length: 187 mm
Muzzle Velocity: 381 m/s (1,250 ft/s)
Effective Range: 50 meters
Reload Speed: 1.8 secs
Attachments for Barrel
Attachments for Optics
Attachments for Under Barrel
Crafting
Gallery