Note: This page is missing many details like images and descriptions. Update should come about soon, sorry for the inconvenience.
Introduction to M16A1
The M16 is the U.S. military designation for the AR-15, designed by the ArmaLite Corporation in 1957. It was first put into service in 1963, becoming the standard U.S. assault rifle by 1969, replacing the M14 rifle. The standard M16 fires the 5.56x45mm NATO round, but can be modified to fire different cartridges with the addition of a new barrel, bolt, and sometimes firing pin. With its long barrel, the rifle can be very accurate at anywhere up to 550 yards for a standard issue rifle, and even longer for specialized variants with heavier barrels such as the MK12. The M16 has a rate of fire of around 700-950 rounds per minute, depending on the model. The M16A2 and A4 variants fire in three-round burst or semi-automatic, while the original M16A1 and A3 variants fire fully-automatic or semi-automatic. It has been largely replaced by the lighter M4 Carbine in the U.S. military but still sees use in training and it is still used by US soldiers and is still widely used by other miltaries throughout the world.
P.S. THIS IS THE CRAPPIEST ASSAULT RIFLE IN THE MOD! >:( But in contagion (the newest verzion of this mod) it is a pretty good gun but there is very few atachments
Specifications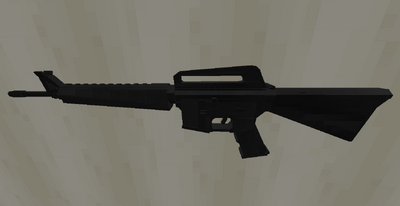 Damage per shot: 8
Damage per second: 107 
Caliber: 5.56x45 mm
Fire Rate: 700 - 950 rpm
Fire Mode: Semi - Full
Weight: 3.26 kg
Length: 1003 mm
Muzzle Velocity: 3,150 ft/s (960 m/s)
Effective Range: 550-800 meters
Reload Speed: 2.6 sec
Attachments for Barrel
Attachments for Optics
THIS WEAPON CANNOT HOLD ANY OPTICAL ATTACHMENTS!
Attachments for Under Barrel
THIS WEAPON CANNOT HOLD ANY UNDER BARREL ATTACHMENTS!
Crafting
Gallery