Note: This page is missing many details like images and descriptions. Update should come about soon, sorry for the inconvenience.
Introduction to M1014
On May 4, 1998, the United States Army's Armaments Research, Development and Engineering Center (ARDEC) at Picatinny Arsenal, New Jersey issued Solicitation #DAAE30-98-R-0401, requesting submissions for a new 12 gauge, semi-automaticcombat shotgun for the U.S. military. In response to the request, Benelli Armi SpA of Urbino, Italy designed and built the Benelli M4 Super 90 Combat Shotgun. On August 4, 1998, five samples of the M4 were delivered to Aberdeen Proving Ground, Maryland, and after intense testing, the M4 had beaten the competition. In early 1999, ARDEC awarded the M1014 Joint Service Combat Shotgun contract to Heckler & Koch, American subsidiary for importation of the Benelli M4 Combat Shotgun. The first units (count of 20,000) were delivered to the United States Marine Corps in 1999. During testing, the prototype was named XM1014, but after adoption, the 'X' was dropped, and the weapon was officially designated the M1014.
Specifications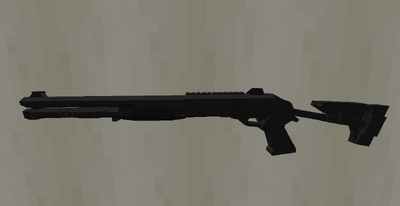 Damage per pellet: 7
Number of pellets: 10
Damage per shot: 70
Damage per second: Variable
Caliber: 12 Gauge 00 Buck
Fire Rate: Variable
Fire Mode: Semi - Pump
Weight: 3.82 kg
Length: 885 mm
Muzzle Velocity: 408 m/s (1338 ft/s)
Effective Range: 47.5 meters (52 yards)
Reload Speed: Depends*
Attachments for Barrel
Attachments for Optics
Trijicon ACOG
EOTech 512 A65
EOTech EXPS3-0 (Tan)
8-18 Kobra Sight
Aimpoint Micro T-1 Sight
15 MOA Reflex
Elcan Specter SFOV4-A1
Attachments for Under Barrel
THIS WEAPON CANNOT HOLD ANY UNDER BARREL ATTACHMENTS!
Crafting
Gallery