Note: This page is missing many details like images and descriptions. Update should come about soon, sorry for the inconvenience.
Introduction of HK USP .45
The USP (Universelle Selbstladepistole or "universal self-loading pistol") is a semi-automatic pistol developed in Germany by Heckler & Koch GmbH (H&K) of Oberndorf am Neckar as a replacement for the P7 series of handguns.
Specifications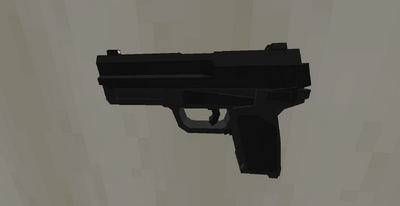 Damage per shot: 5.5
Damage per second: Variable
Caliber: .45 ACP
Fire Rate: Variable
Fire Mode: Semi
Weight: 789 g
Length: 201 mm
Muzzle Velocity: 830 - 1140 ft/s
Effective Range: 50 meters approx.
Reload Speed: 1.8 secs
Attachments for Barrel
Attachments for Optics
Attachments for Under Barrel
Crafting
Gallery