Introduction to HK416
The Heckler & Koch HK416 is an assault rifle/carbine designed and manufactured by Heckler & Koch. Although its design is in large part based on the AR-15 class of weapons, specifically the Colt M4 carbine family issued to the U.S. military, it uses an HK-proprietary short-stroke gas piston system originally derived from the ArmaLite AR-18 (the same system was also used in Heckler & Koch's earlier G36 family of rifles). The HK416 gained fame as the weapon that United States Navy SEALs from DEVGRU Red Squadron used to kill Osama Bin Laden in 2011.
Specifications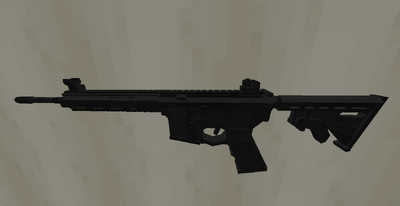 Damage per shot: 7
Damage per second: 105
Caliber: 5.56x45 mm NATO
Fire Rate: 700 - 900 rpm
Fire Mode: Semi - Auto - III
Weight: 2.95 kg
Length: 228 mm
Muzzle Velocity: 788 m/s (10.4 in)
Effective Range: 300 - 400 meters
Reload Speed: 2.3 sec 
Attachments for Barrel
Attachments for Optics
Attachments for Under Barrel
Crafting
Gallery
Community content is available under
CC-BY-SA
unless otherwise noted.