Note: This page is missing many details like images and descriptions. Update should come about soon, sorry for the inconvenience.
Introduction of Glock-18C
The Glock 18 is a selective-fire machine pistol variant of the 9mm Glock 17 handgun. Austrian made, the Glock 18 was made at the request of the Austrian counter-terrorist unit EKO Cobra. The fire selector on the gun's slide allows the pistol to be fired in either semi or fully automatic, its fully-automatic fire mode being able to fire at 1,100-1,300 rounds per minute, making it a very useful sidearm in the right hands. Its magazine capacity can vary between 10 to 33 rounds.
Specifications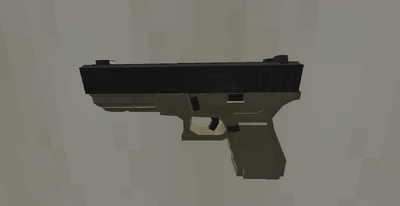 Damage per shot: 5
Damage per second: 100
Caliber: 9x19 mm Parabellum
Fire Rate: 1,100–1,200 rpm
Fire Mode: Semi - Auto
Weight: 620 g
Length: 186 mm
Muzzle Velocity: 375 m/s (1,230 ft/s)
Effective Range: 50 meters approx.
Reload Speed: 1.8 secs
Attachments for Barrel
Attachments for Optics
Attachments for Under Barrel
Crafting
Gallery
Community content is available under
CC-BY-SA
unless otherwise noted.