Note: This page is missing many details like images and descriptions. Update should come about soon, sorry for the inconvenience.
Introduction to AUG A3
The Steyr AUG A3 is similar to the AUG A2 but features a MIL-STD-1913 rail on top of the receiver and an external bolt release.
Specifications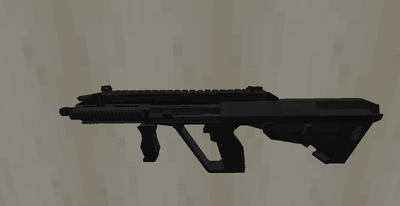 Damage per shot: 7
Damage per second: 87.5
Caliber: 5.56x45mm NATO
Fire Rate: 680 - 750 rpm
Fire Mode: Semi - Auto - III
Weight: 3.6 kg
Length: 508 mm
Muzzle Velocity: 970 m/s
Effective Range: 300 meters
Reload Speed: 2.3 sec
Attachments for Barrel
Attachments for Optics
Trijicon ACOG
EOTech 512 A65
EOTech EXPS3-0 (Tan)
8-18 Kobra Sight
Barska AR6 1-6x24
AImpoint Micro T-1 Sight
15 MOA Reflex
Elcan Specter SFOV4-A1
Attachments for Under Barrel
THIS WEAPON CANNOT HOLD ANY UNDER BARREL ATTACHEMENTS!
Attachments for Sides
UTG Tactical Laser
LD19206-IR Tactical Laser
Crafting
Gallery