Note: This page is missing many details like images and descriptions. Update should come about soon, sorry for the inconvenience.
Introduction to AK-47
The AK-47 (Russian: Автомат Калашникова 1947, Avtomat Kalashnikova 1947; "Kalashnikov Automatic Rifle, 1947 Model") is a Soviet assault rifle designed by Mikhail Kalashnikov in 1947. It is known as the most used and most produced firearm in the world, with an approximated 75 million AK-47s and AKMs produced, and a total of around 100 million AK-types produced.
It was often copied, or modified into unique weapons such as the Chinese Type 56, the Israeli Galil, the Finnish RK-62, AKM, the RPK machine gun, and more modern variants, such as the AK-74 and AK-12. It was first put into service with the Soviet Armed Forces and other nations of the Warsaw Pact, and is still in service with many countries today. It became a cultural icon, not just used widely by some paramilitary and guerrilla forces, but also had an effect that has made it popular in some action television programs, films/movies, printed media, and video games.
The AK-47 fires the 7.62x39mm M43 cartridge, typically from a 30-round magazine at a rate of fire of approximately 600 rounds per minute, up to an effective range of 350–400 meters.
Specifications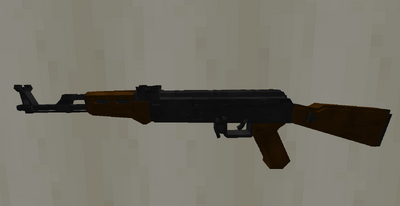 Damage per shot: 7.2
Damage per second: 72
Caliber: 7.62x39 mm
Fire Rate: 600 rpm
Fire Mode: Semi - Full
Weight: 3.47 kg
Length: 880 mm
Muzzle Velocity: 715 m/s
Effective Range: 350 meters (380 yards)
Reload Speed: 2.3 sec
Attachments for Barrel
PBS-1 Suppressor (7.62x39mm Silencer)
Attachments for Optics
OKP-7
Attachments for Under Barrel
6H2 Bayonet
Scabbard
GP-25 Self-propelled Grenade Launcher
Crafting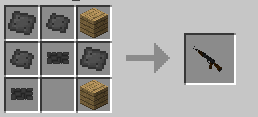 .
.
.
.
~Joko was here..
Gallery