Note: This page is missing many details like images and descriptions. Update should come about soon, sorry for the inconvenience.
Introduction to AK-12
The Kalashnikov AK-12 (formerly АK-200) is the newest derivative of the Soviet/Russian AK-47 series of assault rifles and was proposed for possible general issue to the Russian Army. As of December 2014, the Russian military has adopted both the AK-12 and the AEK-971 for evaluation.
During development, the AK-12 prototype based on the AK-200 had semi-automatic, three-round burst and automatic firing modes, and was planned to use a variety of cartridges. However, the final production version unveiled in 2016 abandoned the AK-200-based prototype in favor of another version based on the AK-400, where the burst function was replaced by a two-round burst mode, and the only types of ammunition used are 5.45x39mm for the AK-12 and 7.62x39mm M43 for the AK-15 variant. The AK-12 has interchangeable barrels and Picatinny rails.
The prototype weapon was planned to have a modular design that could configured into different roles, even able to change its caliber by changing the barrel. Versions of these proposed alternate configurations were portrayed in Battlefield 4 as alternate weapons: RPK-12 (light machine gun), AKU-12 (carbine), SVD-12 (designated marksman rifle), and DBV-12 (shotgun).
Specifications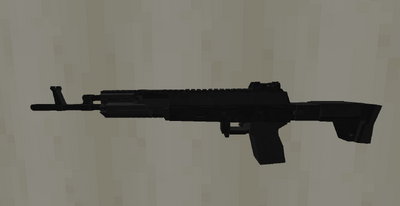 Damage per shot: 7.3
Damage per second: 85.2
Caliber: 5.45x39 mm
Fire Rate: 700 rpm
Fire Mode: Semi - Full - III
Weight: 3.3 kg
Length: 945 mm
Muzzle Velocity: 880-900 m/s
Effective Range: 500–600 meters (547–656 yards)
Reload Speed: 2.3 sec
Attachments for Barrel
Attachments for Optics
Trijicon ACOG
JPU HP 3-9x40 Scope
EOTech 512 A65
EOTech EXPS3-0 (Tan)
8-18 Kobra Sight
Barska AR6 1-6x24
AImpoint Micro T-1 Sight
15 MOA Reflex
Elcan Specter SFOV4-A1
Attachments for Under Barrel
Angled Grip
Bipod
Grip
Stubby Grip
Foregrip
Crafting
Gallery